Hi everyone, i have decided to fork out some cash and turn my GoPro 7 Black into a more professional setup for my next trip to Asia, and i will be buying the following items (see links below)
1x ULANZI 5200mAh Power Bank Selfie handle with the camera case
Selfie Stick Battery Power Bank with GoPro Case ULANZI V2 Adapter for Gopro Hero 7 6 5 Handheld Power Bank 5200mAh: Camcorder & Video Accessories: Amazon.com.au
1x Moman Aluminium Mini Tripod Stand for power bank handle
Tripod for DSLR Camera and Gimbal Stabilizer with 1/4 and 3/8 Screw Mount, Camera Tripod with Max Load of 80 kg, CNC Aluminum, Mini Tripod: Tripods & Monopods: Amazon.com.au
1x set of screen/lens protectors
Tersely Screen Protector for GoPro Hero 7 (2018) White/Silver, (3 Pack) Premium 9H Hardness Tempered Glass Screen Protector Front + Back Glass Lens Protector Film for Go Pro Hero7 White/Silver: Digital Camera Accessories: Amazon.com.au
1x ULANZI VL49 2000mAh Video Light
ULANZI VL49 2000mAh LED Video Light w 3 Cold Shoe Mounts Type C Charging Soft Light Panel for DJI OSMO Mobile 3 Pocket Zhiyun Smooth 4 Sony RX100 VIICanon G7X Mark III A6400 6600 GoPro 8 7 6 5 Vlog: Amazon.com.au: Electronics
1x GoPro Pro 3.5mm Mic Adapter (has a 3 Pole TRS female jack)
GoPro Pro 3.5mm Mic Adapter (HERO5/6/7) DVC Accessories,Black: Amazon.com.au: Electronics
1x EDUTIGE ETM-001 OmniDirectional Microphone (3Pole TRS) which i need to buy from their Ebay page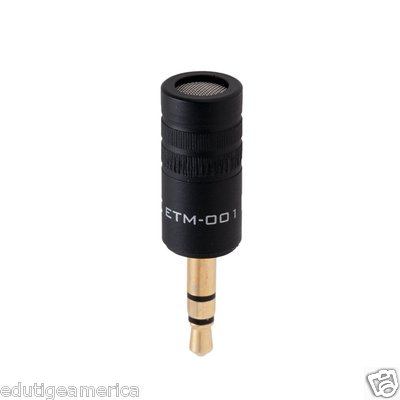 External microphone for voice recording and video making. The ETM-001 is a high-sensitivity, omnidirectional, condenser microphone for voice recording and video making. It is small, lightweight and durable.
Here is the Deal regarding the Microphone
, the special (and very expensive) GoPro Mic Adapter that fits inside the Ulanzi camera cage has a 3 Pole TRS female socket, so i need to buy the EDUTIGE
ETM-001
Omnidirectional 3 pole TRS Mic, but Amazon Australia do not sell them, so i have to buy the 3 Pole TRS Mic from the Edutige Ebay store for $82AU.
Here in Australia we mostly use 4 Pole TRRS Audio stuff, so it is almost impossible to buy 3 Pole TRS stuff, and i don't like using special Adapters to convert stuff from 4 pole to 3 Pole.
Now for my New RIG setup,
i will be making a Twin Handle Grip Bar to attach to the bottom of the Power Bank handle for more important shoots where i need more control and balance of the camera, and require good lighting for mounting 1 or 2 LED lights.
The Video light will mount on top of the Ulanzi Camera Cage (on the hot shoe) when not using the Hand Rig